Filter by Category
Computers and Technology
Career Computer Lab (Thu) - F17
with Pat Hughes

Sep 7, 2017 at 5 pm
The adult education computer lab is also open to the public for on your own keyboarding practice, job searches, resumes, online classes, and career-oriented and interest uses. There is no cost for using the computer lab.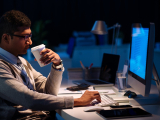 Registration Unavailable
TechHire
Price not
available

Aug 10, 2017
Are you interested in a career inInformation Technology?
TechHire is a program designed to recruit, assess, train and place young adults into Maine's IT industryin positions like computer support specialist, software, and health informatics. Completed training willresult in credentials recognized by the IT industry. This grant funded program provides a host of servicesto train young adults (between the ages of 17 and 29) as well as career changers who are lookingto transition into IT roles.* Eligibility requirements do apply.
This 4 million dollar project is fully funded by a U.S. Department of Labor Employment and TrainingAdministration grant awarded to Coastal Counties Workforce, Inc. This program/activity is an equal opportunity employer/program. Auxiliary aides and services are available upon request to individuals withdisabilities.
For more information please contact: (Depending on region)
Northeastern Workforce area (Aroostook, Hancock, Penobscot, Piscataquis, Washington counties):Aleigh Wood, AWood@emdc.org, 207-561-4042
Central/Western Workforce area (Androscoggin, Franklin, Oxford, Kennebec, Somerset counties):Charles Woodbury, cwoodbury@cwmwdb.org, 207-753-9082
Coastal Counties Workforce area (York, Cumberland, Sagadahoc, Lincoln, Waldo and Knox counties):Dylan Barnett, dylan.barnett@workforcesolutionsme.org, 207-274-9131
*For those over the age of 29, connect with your local CareerCenter to learn what training and employmentservices are available. http://www.mainecareercenter.gov/